Surprise Your Loved Ones With America's Top Rated Gift...

Order 3 Metalbirds

TODAY

And Save 20%
✔️MADE IN USA
✔️MORE THAN 50,000 HAPPY CUSTOMERS
✔️BEST GIFT OF 2020
✔️FAST 3-4 DAY SHIPPING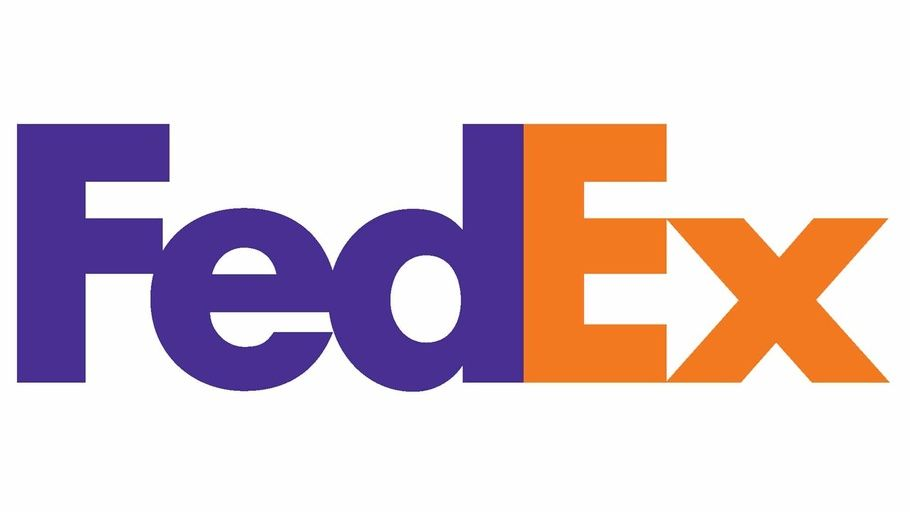 Discount Is Automatically Applied At Checkout
Shipping Is FREE in US
---
Imagine How Your Metalbird
Will Gracefully Sit In Your Garden...
20% discount when you buy 3+ metalbirds


Don't Miss Out! - ends this week
50,000+ Ecstatic Customers Can't Be Wrong...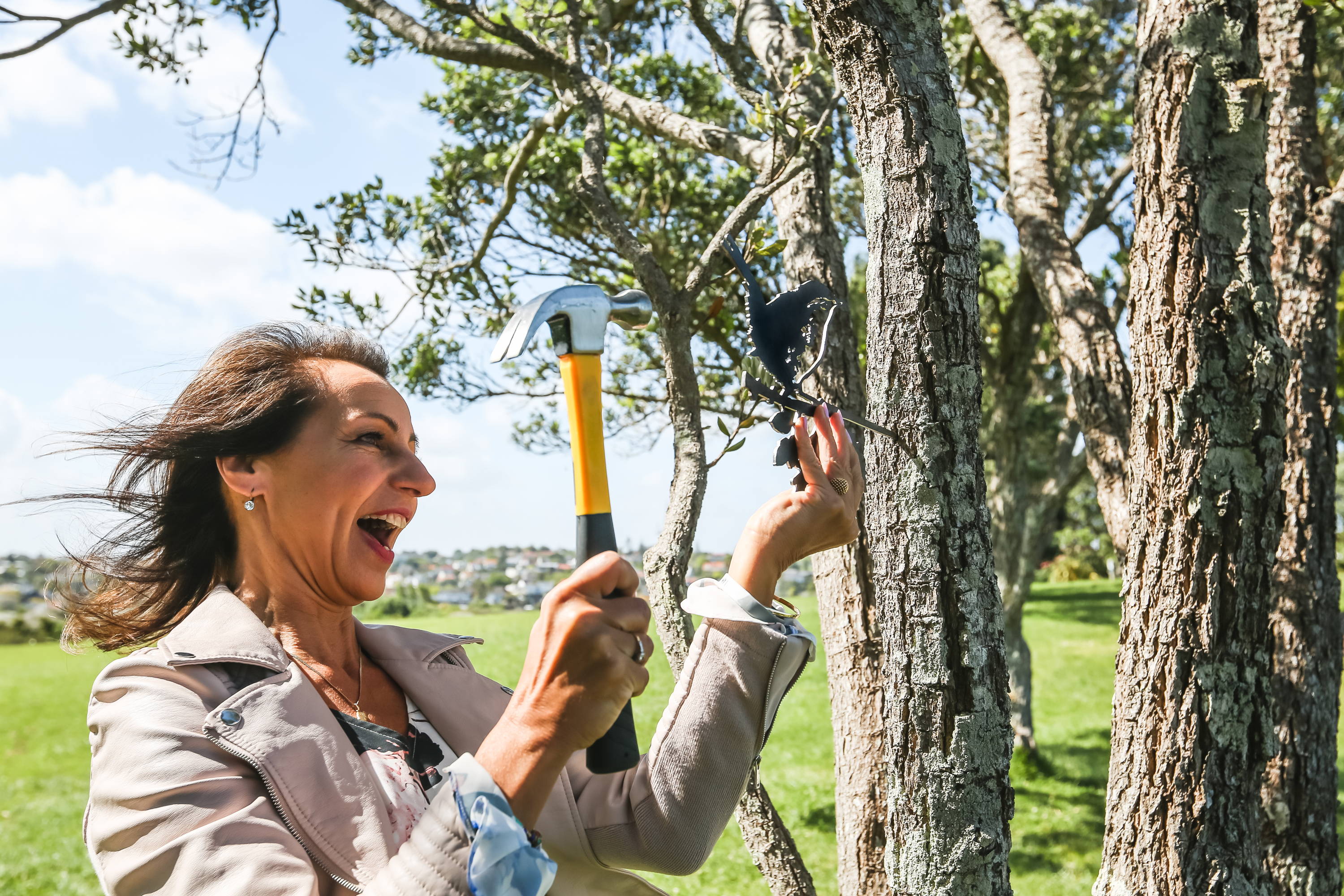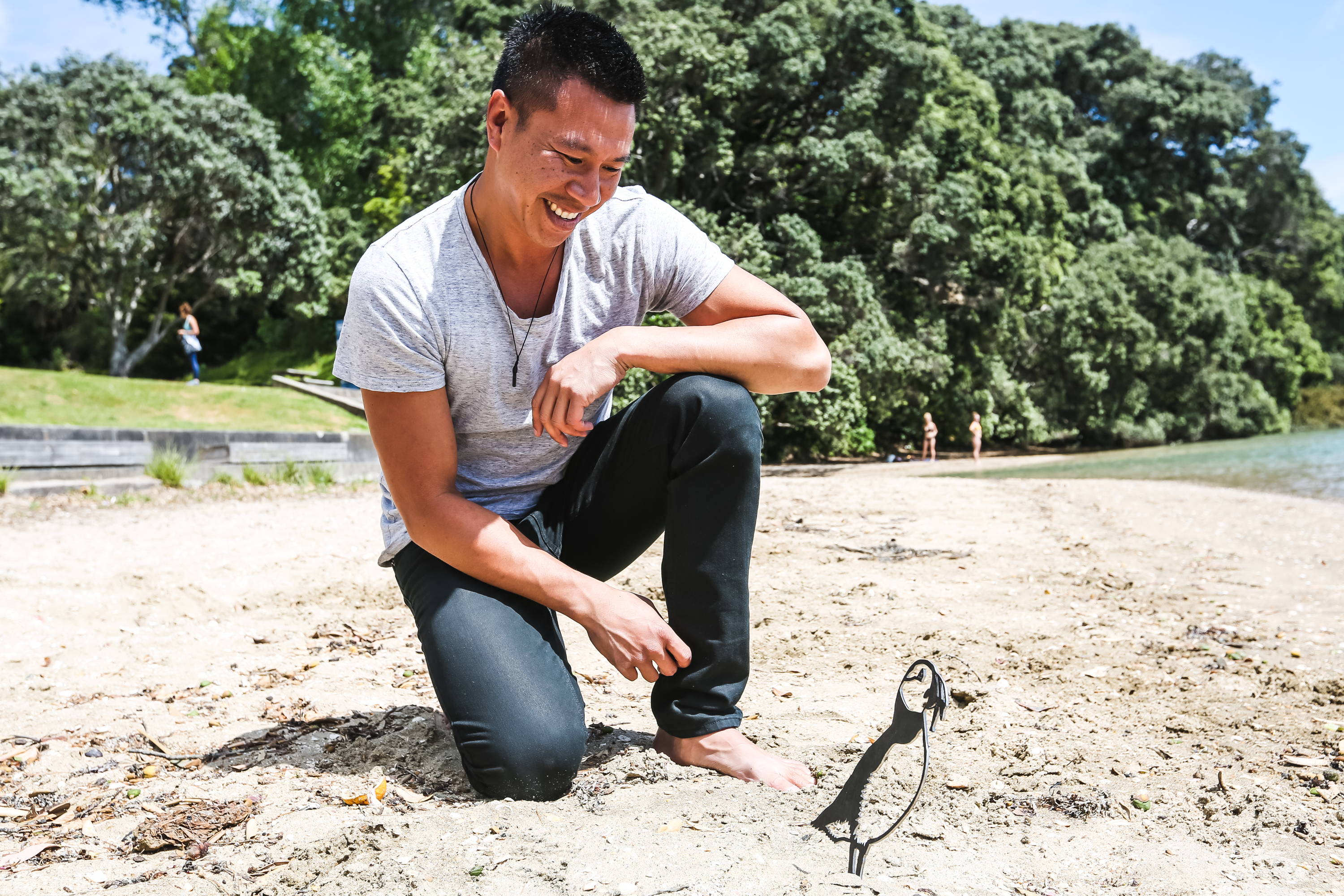 Street art has come to life, to make the perfect addition to your environment!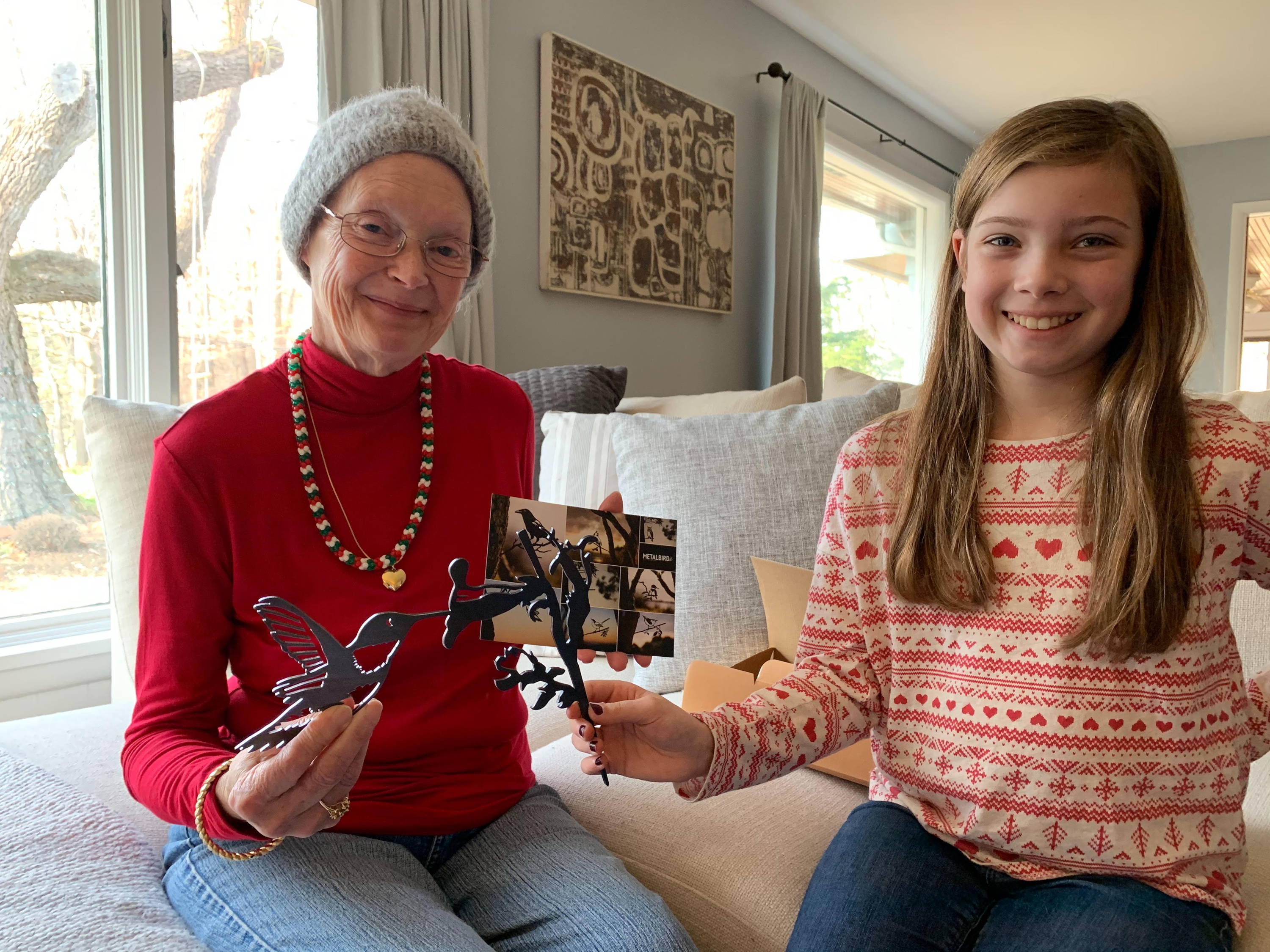 Metalbird puts smiles on tens of thousands of faces every year...
Will your loved one be the next?
Simply grab a hammer and tap, tap, tap it into a tree or post. If the wood is particularly hard, drill a hole a little smaller than the spike, and then hammer it in firmly making sure there is no movement in the bird.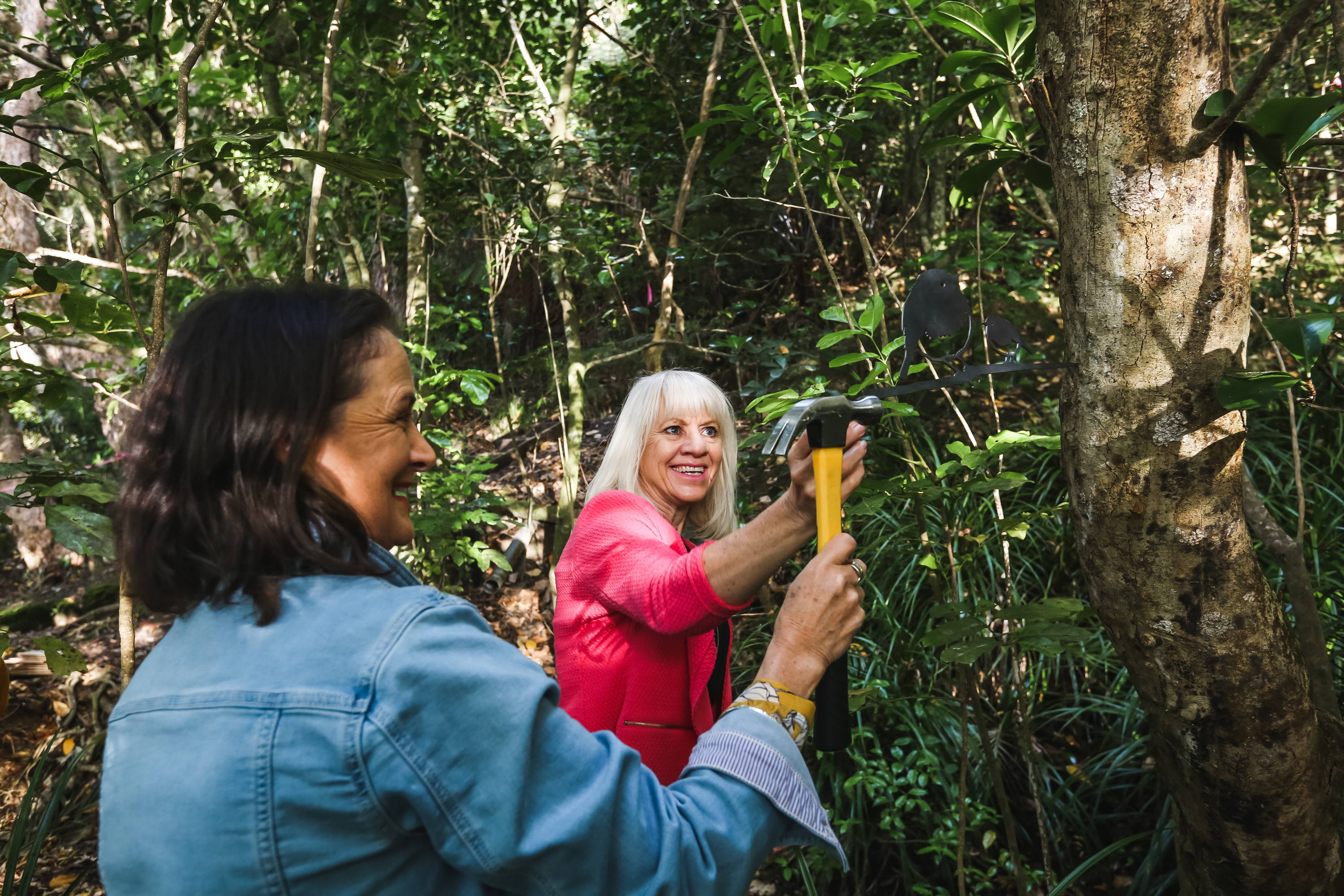 "From Humble Beginnings"...
Metalbird's Story

"Metalbird started as a New Zealand based guerrilla street art project in 2009...

Inspired by stencil artist Banksy, I designed, crafted and hammered up dozens of life-sized, Metalbird stencils for no other reason than to surprise, delight and intrigue.

In parks, in fences and on power poles…
anywhere I thought I wouldn't get arrested installing them.

To my delight... people loved them!

We love what we do, we hope it shows. Welcome to the project!"


Still On The Fence?...
Check Out THESE Raving 5-Star Reviews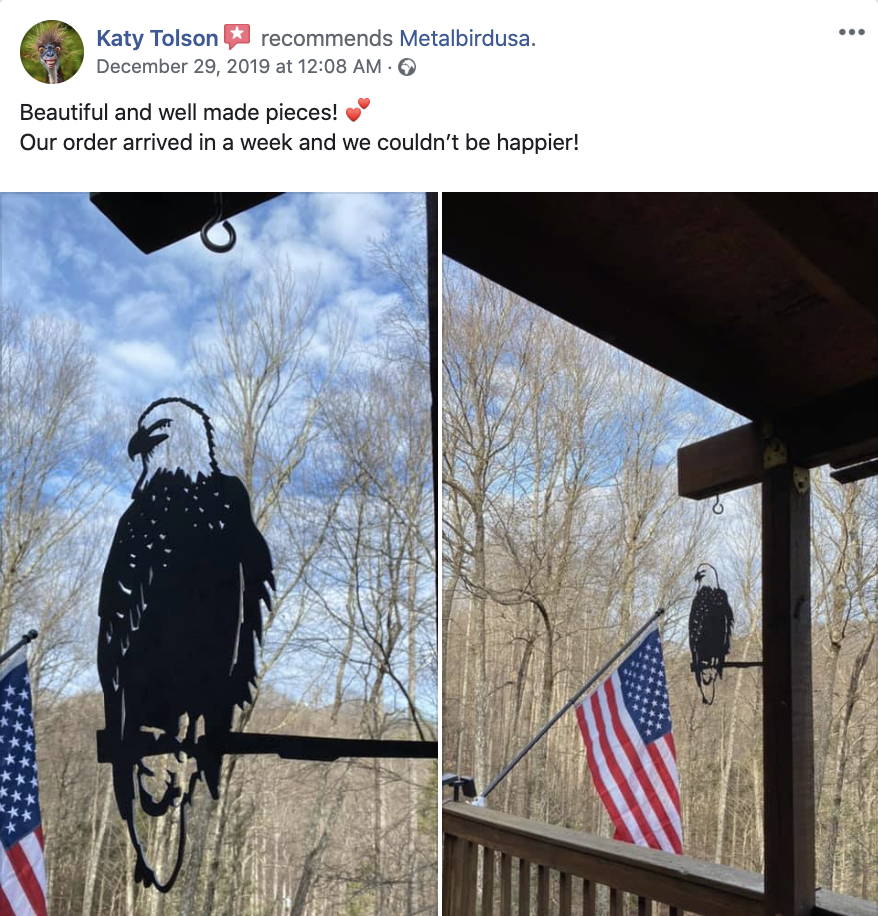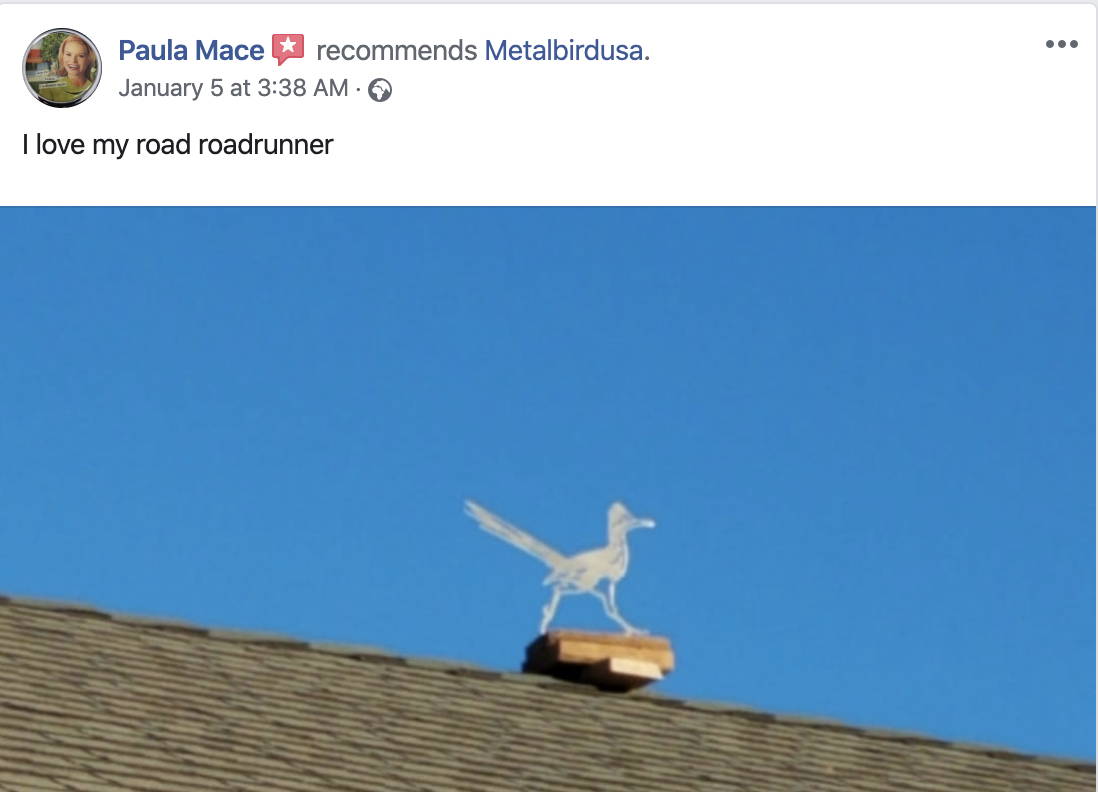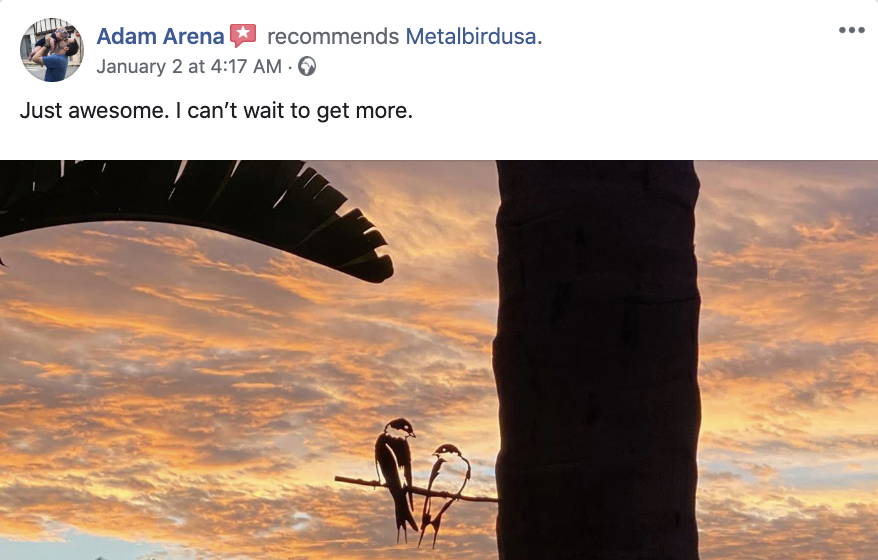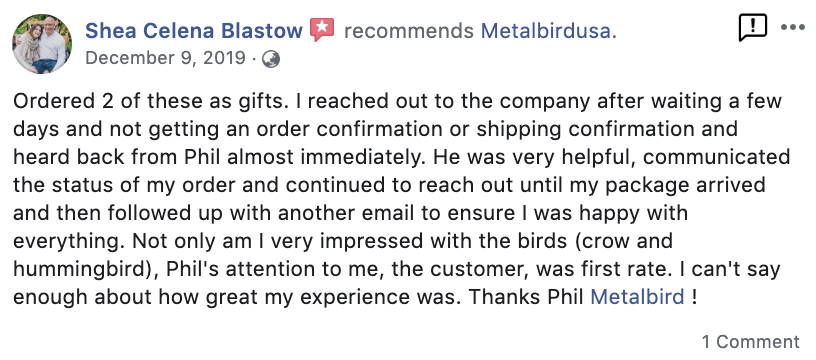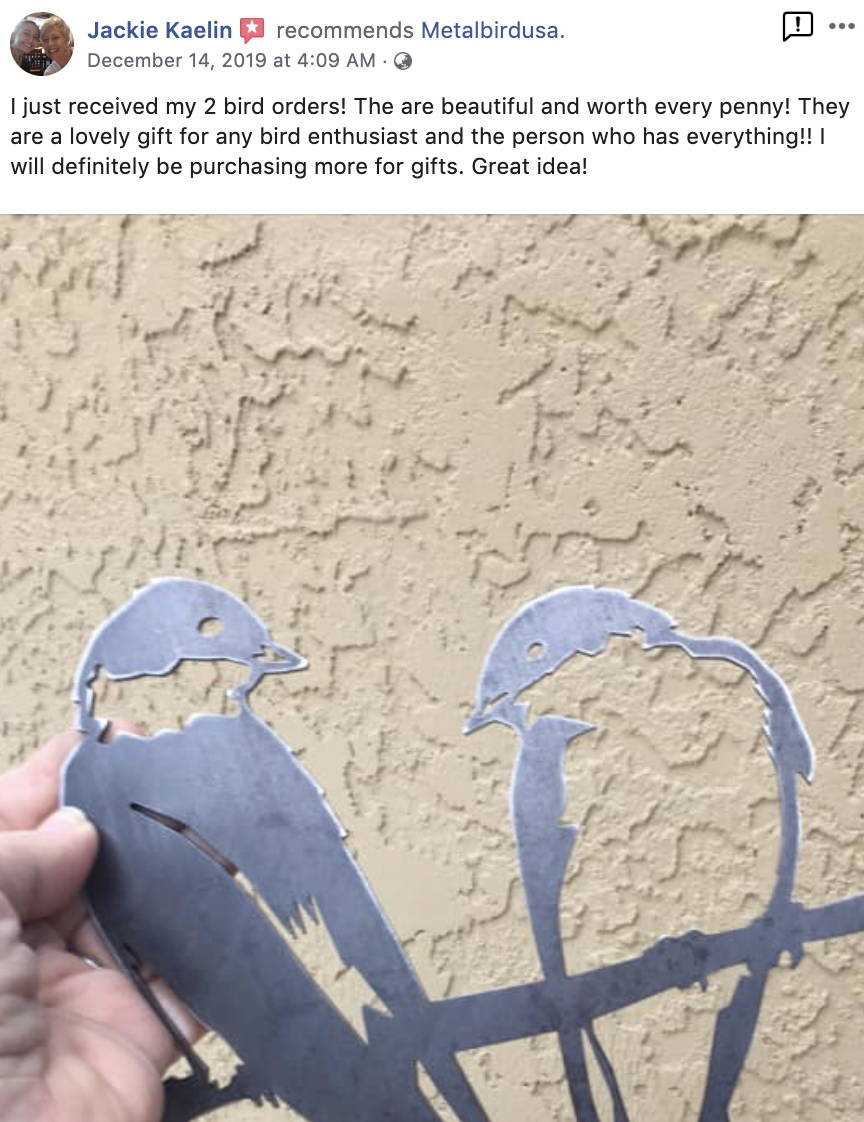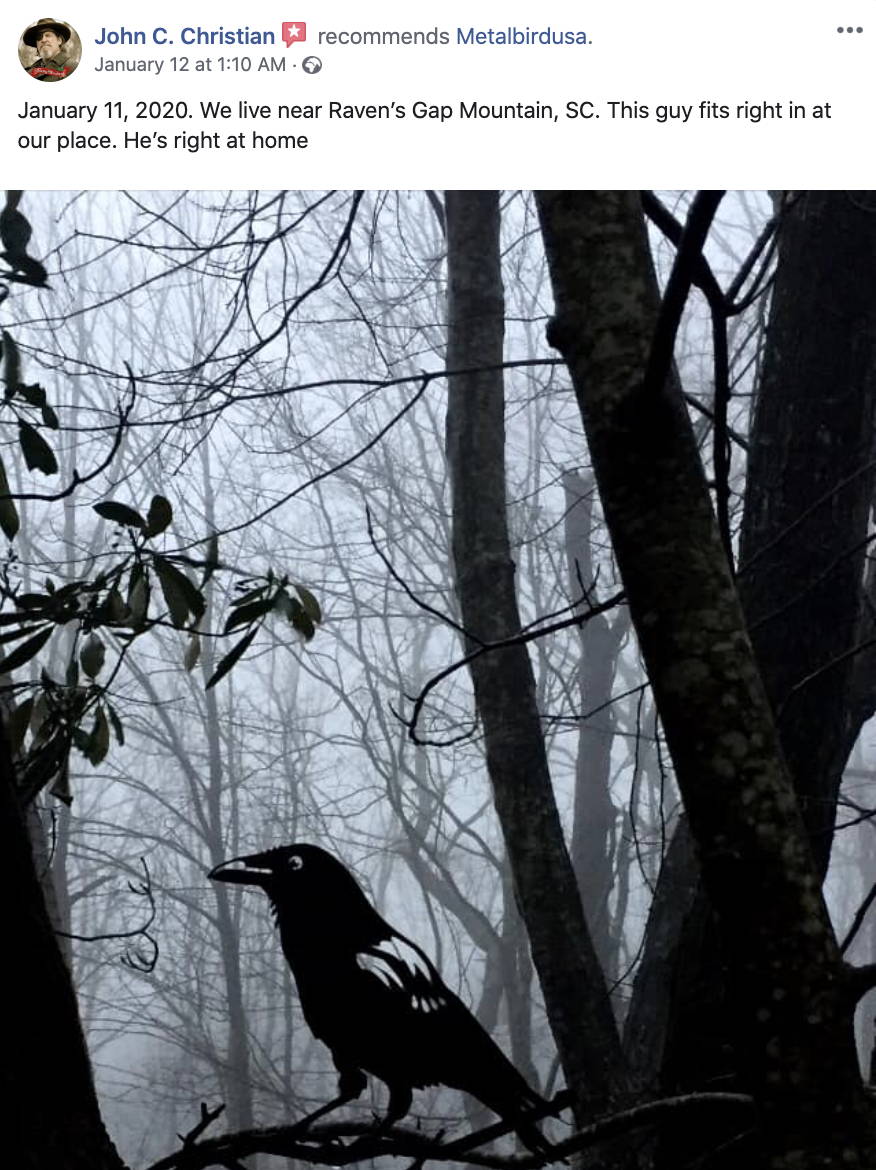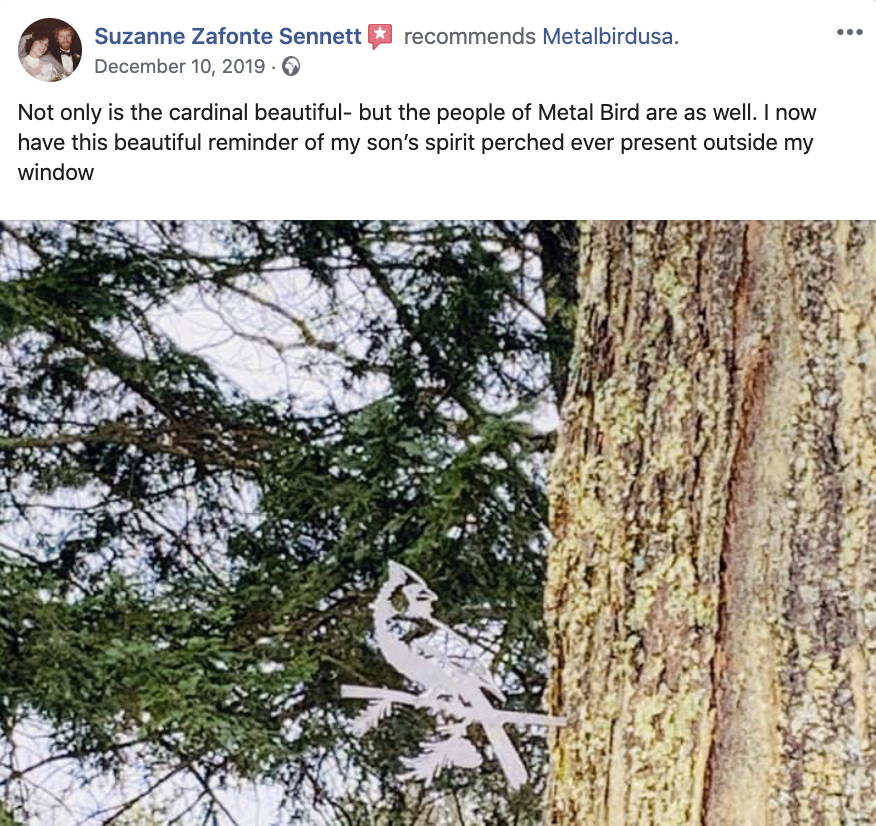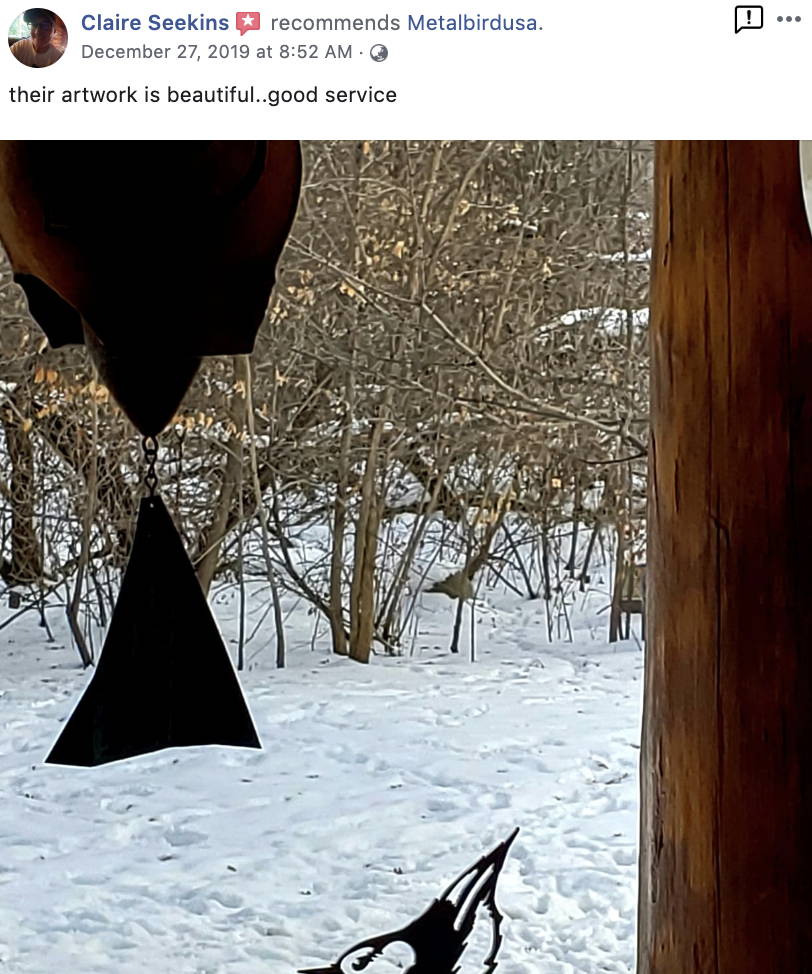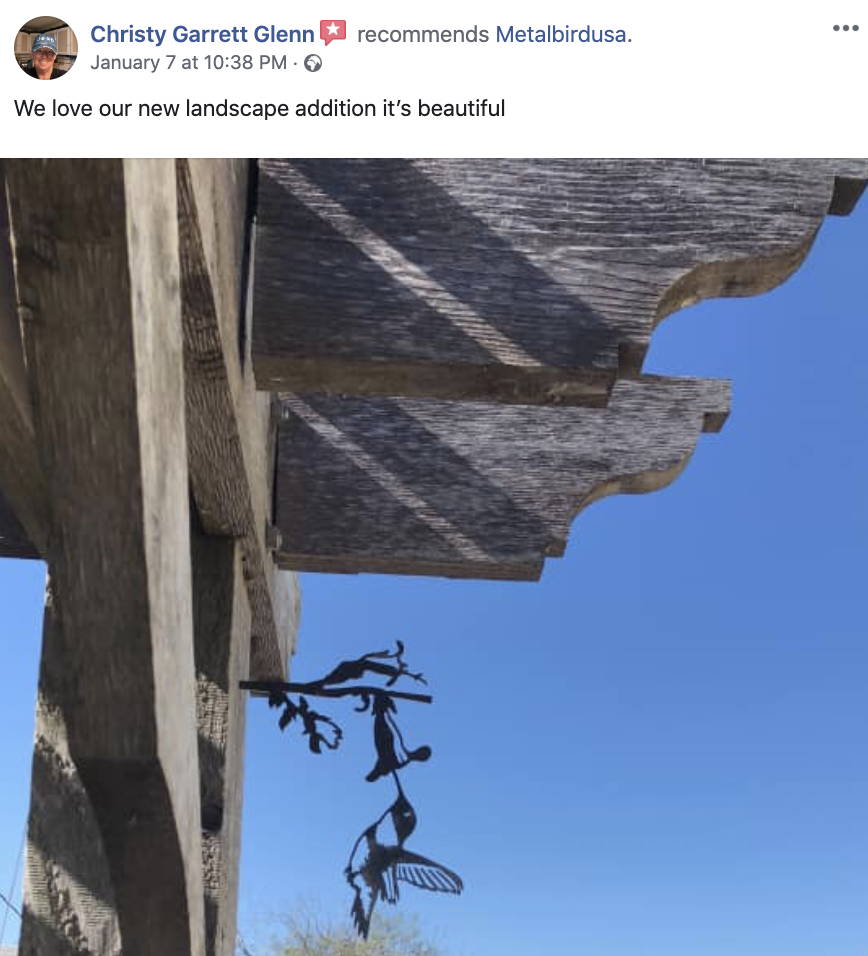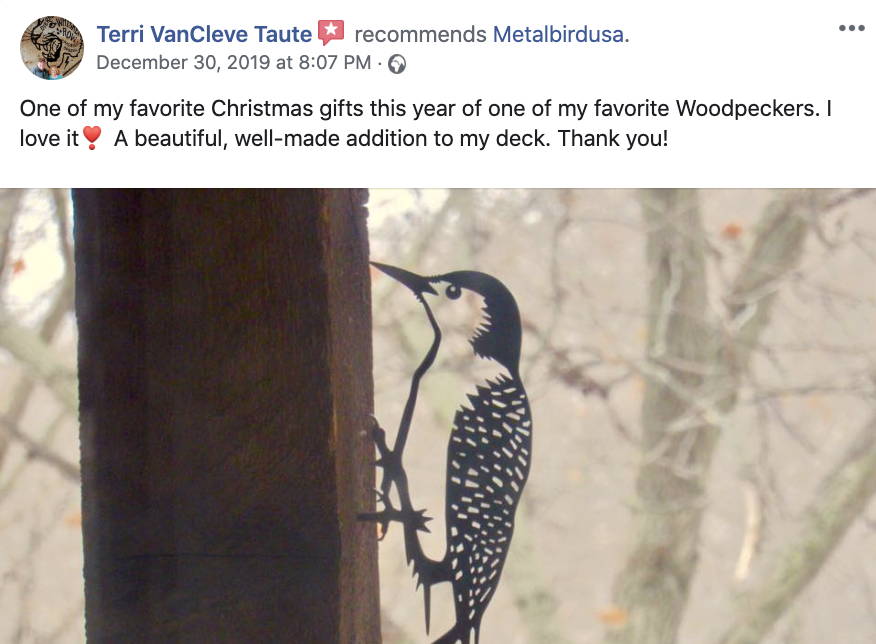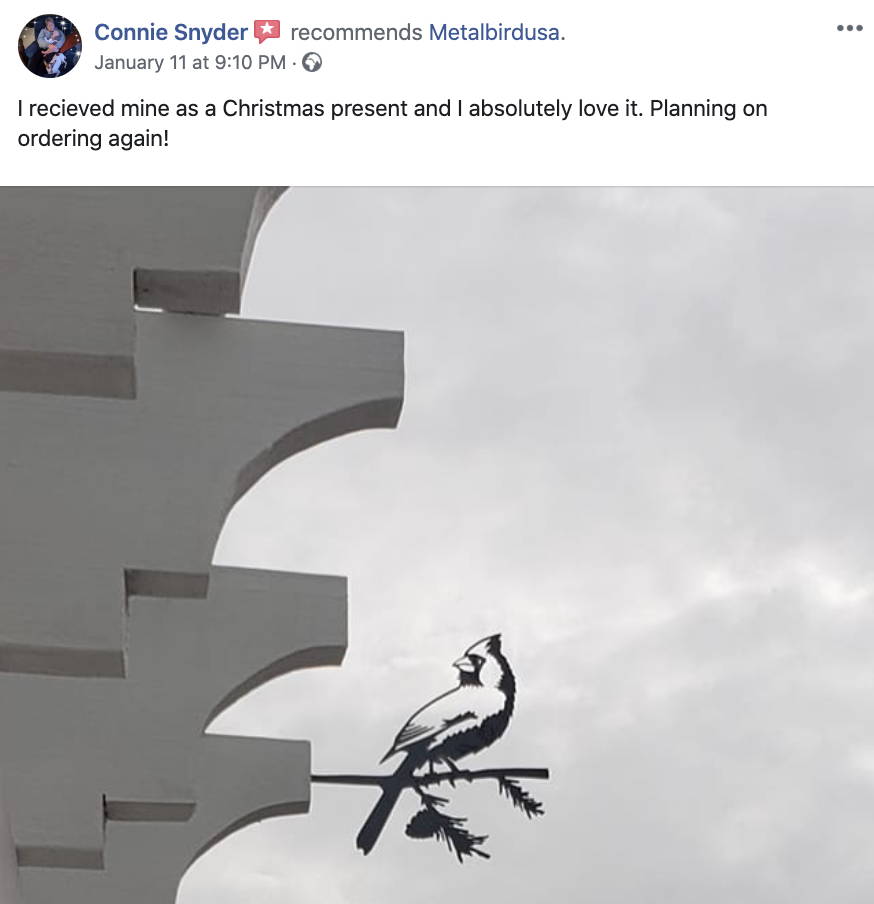 ---
SATISFACTION

GUARANTEE
FAST SHIPPING AND EASY RETURNS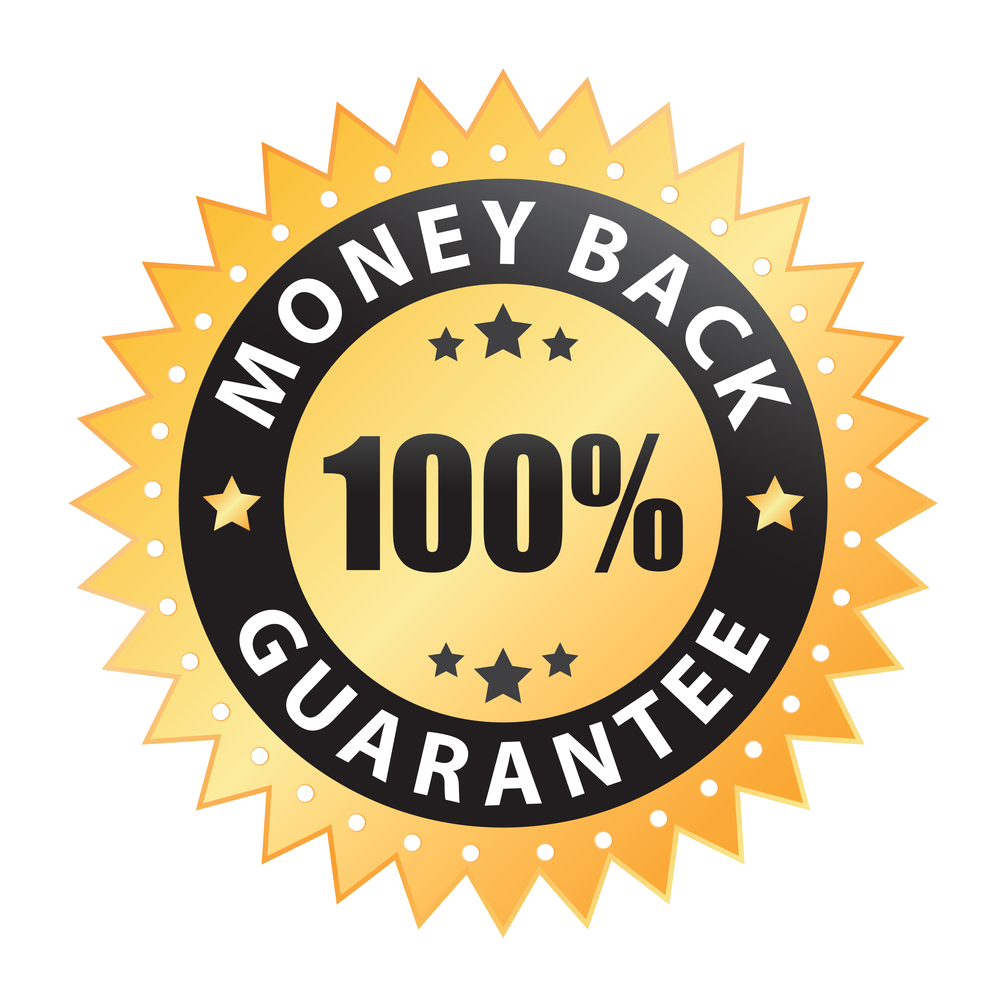 Get Unparalleled Support & Expertise
It really is true: We know more about metalbirds than ANYONE. At metalbird.com, you never have to worry about making the wrong choice. We're here to give you all the support, information & advice you need.
Got a question? Email us at info@metalbird.com.
Enjoy Easy, Painless & Fast Returns
Need to send something back? No problem. We accept all returns of non custom items within 60 days from the day you receive your Metalbird, not the day you order it. Once the order gets back to us, we'll process your refund in just 2-3 days.
Quality Guarantee
If you're not satisfied, we're not satisfied.
That's why we'll happily give you your money back on any Metalbird you purchase.
 

HERE ARE A FEW OTHER
questions

We get a lot
Can metalbirds be sent as gifts?
Absolutely… in fact, over half of the birds we sell are gifts. Just tell us the name and postal address of the lucky person and we'll send it to them in its own beautiful recycled gift box. When you check out, you can even get us to insert a personalised message that our team will handwrite it on a beautiful card. And no… we won't put anything in the box showing how much it cost. That will be emailed to you.
Not really – Metalbirds are made from Premium Corten® Steel which is designed to weather naturally and not be painted. It doesn't mean you can't but we kind of like them the way they are and unless you do a wonderful job prepping the surface, the paint is likely to come off. If you really, really want to add colour to them, then we recommend having them professionally powder coated.
A lot of love, skill and time goes into the creation of one bird. All up, over a week's work to get it just right! We're a small team and at this stage it just isn't feasible for us to do small one-off projects - as much as we'd love to. If you have something larger in mind though please get in touch by emailing info@metalbird.com and we'll see if we can help.
Will my metalbird scare off real birds?
No – while we're not sure what goes through a real Nuthatch's mind when it sees a Great Horned Owl Metalbird, judging from the thousands of photos we've seen real birds love sitting on, or next to our art pieces.
The short answer is 'yes'. The better answer is our birds are made from Premium Corten® Steel which is a weathering steel. It's designed to develop a patina that then seals in the steel providing it with long term protection against the elements. We started the business 10 years ago in New Zealand and birds installed at the start still look great today with a beautiful patina that shifts with the season.
Will the hammering damage the tree?
While anything that breaks the bark of a tree provides an opportunity for infection, in 10 years of running this project around the world we have yet to hear of a single tree that has died as a result of one of our birds being nailed into it. Our original birds are a decade old and the trees are showing no harm long-term damage whatsoever
---
Surprise Your Loved Ones With America's Top Rated Gift...

Order 3 Metalbirds

TODAY

And Save 20%
✔️MADE IN USA
✔️MORE THAN 50,000 HAPPY CUSTOMERS
✔️BEST GIFT OF 2020
✔️FAST 3-4 DAY SHIPPING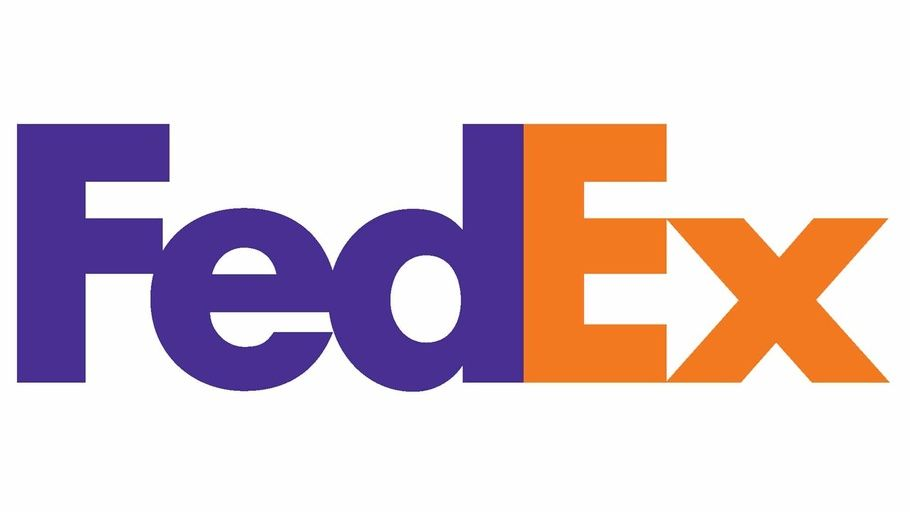 Discount Is Automatically Applied At Checkout
Shipping Is FREE in US